Dear Friends of Bucks Audubon, 
At Bucks Audubon, we know in our hearts that we are having a positive impact on the 10,000+ children and adults that we engage with nature each year, but we also know that environmental education is a long-game.   So we were very excited to hear Melissa's story and want to share it with you, because without your support stories like this would not be possible.  
  "My name is Melissa, I am the kid in the photo on the front of your 2001 brochure. I wanted to write to you 20 years later to tell you how deeply your program impacted me. To this day I remember going to the environmental education summer camp, learning about the bugs, fish and amphibians that inhabited Honey Hollow. Searching for salamanders in the creek there is one of my most cherished memories, and the one captured on your brochure! My love for nature was fostered and grown with your program and I wanted to say thank you for that, and to keep up your incredible work. Fostering a child's love for nature is one of the most impactful things we can do to save this planet. Because I had the privilege to grow up in such a beautiful area and connect with the natural world, I grew up knowing I wanted to make protecting it my life's work. I now work for the Environmental Protection Agency, combating climate change, trying to make that childhood dream a reality. Thank you for that ❤"  
Help us to connect more children, like Melissa, to nature!  Your gift today will go far in educating the next generation of environmental stewards! 
As we adjust to the new normal, we are excited to see a surge in interest for our summer camp program, which more than doubled in attendance this summer.  Attendance at our Bird Walks and hikers on our trails have also increased.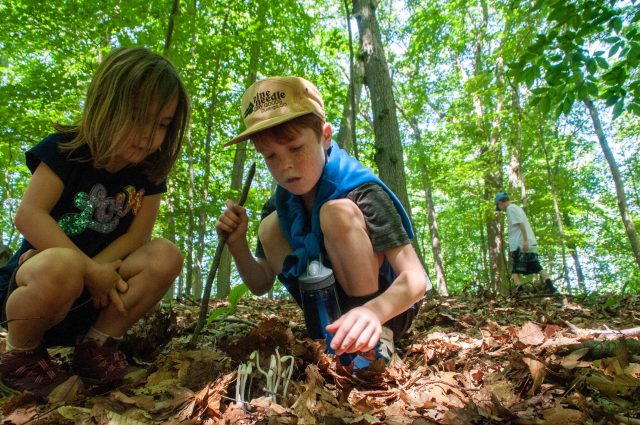 And we anticipate continued growth as schools restart field trips and with the return of programs like our Preschool Explorers Series.  Your support will allow us to educate and engage even more children! 
Your support in 2021 also allowed us to improve our number one teaching tool, our natural habitat!  We planted over 300 native plants, helping to clean our water, mitigating the impacts of climate change, enriching the lives of our visitors, and providing important habitat for birds and wildlife. Your support will allow us to promote Bird Friendly Habitats, plantings for pollinators, and continued wetland and stream restoration.
Thanks to the extraordinary generosity and dedication of supporters like YOU, Bucks Audubon has continued to positively impact our environment, while making our extraordinary property, with its miles of trails and vibrant environmental education programs, available to everyone in our region.
Please, as this year comes to a close, reaffirm your dedication to birds, nature, education, and our environment with a contribution today!  
 We thank you in advance for your unfailing commitment! 
Sincerely,  
Stacy Carr-Poole                                                                                    Kalle Weeks and Robert McGarry
Executive Director                                                                                  Co-Presidents – Board of Directors 
All donations are tax deductible. Bucks County Audubon Society is an exempt organization as described in Section 501(c)(3) of the Internal Revenue Code; EIN 23-7185488. Donations are tax deductible to the full extent of the law. Please consult your tax advisor.  A copy of the official registration and financial information of the Bucks County Audubon Society may be obtained from the Pennsylvania Department of State by calling the. Bureau of Charitable Organizations toll free at 800-732-0999.  Registration does not imply endorsement.