Earth Day Festival
April 10, 2021 @ 10:00 am

-

3:00 pm
Join Bucks Audubon for our 6th Annual Earth Day Festival!
Spring is on it's way here, the days are warming up, and you're ready to get outside with family and friends! Celebrate this amazing planet we live on and share during our many great programs and activities at this festival, all geared to getting you and your family out, enjoying and learning more about nature! View and purchase goods from environmentally friendly vendors and learn more about green industry & environmental organizations in our area!
Admission to the festival is free, but donations to Bucks Audubon are greatly appreciated and benefit our high-quality environmental education programming through out the year. We also suggest having credit card (preferred to reduce handling of cash) on hand while browsing and supporting the many local eco-friendly vendors.
Earth Day Festival 2021 will take place outdoors (rain or shine), so please dress for the weather! Masks will be required and vendors will be set up to ensure social distancing. Group sizes during the activities (such as the creek walk, bird hikes, and insect hunts) will be limited, but there will be several times to attend these mini-programs!
Get Outside. Explore. Relax in Nature!
Schedule of Events:
Upon arrival, you will have the ability to register to participate in one of the guided walks. Space in these activities is limited to ensure social distancing. Please register to save your space for a walk at the Welcome Table upon arrival!
10:30-11:15am: Bird Walk
11-11:45am : Creek Walk #1 (3 groups available)
12-12:15pm : Solar Power Demo
12:30-1:15am: Creek Walk #2 (3 groups available)
1-1:15pm : Solar Power Demo
2-2:15pm: Solar Power Demo
2-2:45pm: Creek Walk #3 (3 groups available)
2-2:45pm: Wildflower Walk
Vendors To Visit at the Festival:
Advocacy Committee
The Art of Ecology with Marissa Jacobs
Art of Sprit – Earth School
Alan's Nature Photos with Alan Stifelman
Aquetong Watershed Association
Bowman's Hill
BSCAPE
Bucks Branch Women's National Farm & Garden Association
Buckingham Democrats
Bucks Co. Foodshed Alliance & Citizen's Climate Lobby
Crescent Moon Clothing
Dragonfly Yoga Studios
Elisa Markhoff
Exact Solar
Heritage Conservancy
Horticultural Therapy with Nancy Minich
Joan's Gems by Joan Scott
Joshua Tree Experts
Kelly Sterr Gallery
Laura Brandt Photography
Laura Doyle
Linda Carol Arts
Miriam Warfield
Rainey Day Photos by Sue Ann Rainey
Shady Brook Farm
Solebury EAC
TerraVida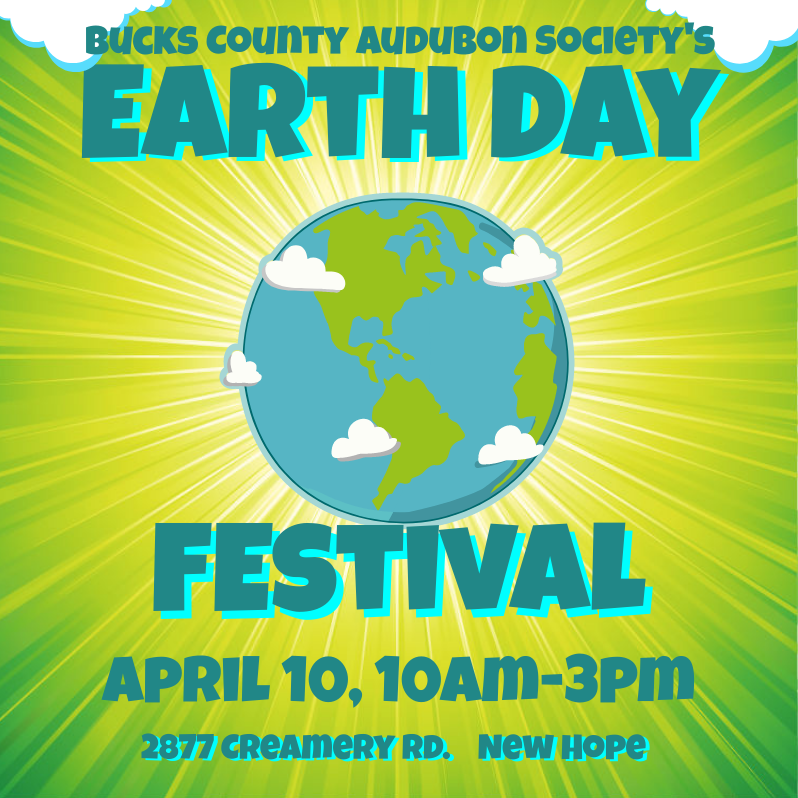 Watch the video above to discover Bucks Audubon, learn more about the property and some of what goes on here at the center! We are so excited to host this festival on this amazing, diverse property.
Earth Day Vendor Map – click to enlarge!
Click below for more about the sponsors that made this Festival possible!
Thank you to our Sponsors!
Countdown to the Earth Day Festival!